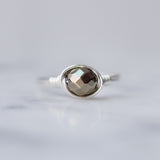 Wear a piece of sparkly 'fools gold' with our genuine Pyrite Ring. Pyrite is said to bring its wearer power and prosperity. Adorn yourself with this beautiful gemstone ring, perfect for expressing your unique style while making a meaningful statement.
Stone of Power and Prosperity- Promotes will power and strength
Handmade in Arizona, USA
Demi Fine Non Tarnish 14k Gold Fill / Sterling Silver

Comes packaged in a custom gift box, perfect for gift giving.
Our Metals:
Don't worry about tarnishing or green fingers...ever. With Salt City Gems, you can rest assured you are getting the highest quality metal for your jewelry. 14k Gold Fill is one of the most durable and long lasting metals next to solid gold. Be sure to read our "Caring for Your Jewelry" page below for tips on how to make your SCG pieces last.