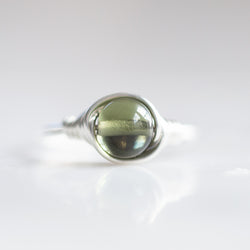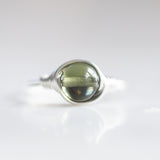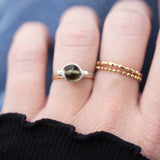 NOTE* We will email you about the metal you want and size after you order.

Extremely rare genuine Moldavite 6mm stone! Moldavite is a natural occurring glass that was formed by a meteor impact on earth near the Czech Republic! Its color is a beautiful forest green. Finding Moldavite like this is so hard, so we hope you cherish this ring forever! 
6mm Genuine Moldavite Stone
Stone of Transformation and Evolution
Comes wrapped in 14k Gold Fill, 14k Rose Gold Fill or Sterling Silver
Comes packaged in a custom Salt City Gems gift box. 
*Important* Moldavite is fragile. So this is not a ring that can be worn all the time. It needs to be taken care of with extreme care as to not break or damage the stone. Should be worn on special occasions and kept away from any type of chemicals.