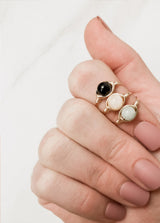 THE HERO STACK - A stack meant to remind all women how amazing they are. Strong, Patient, Loving hero's. 

This stack includes Black Tourmaline, Yellow Calcite, and Jade.  
Up to 20% OFF each ring when purchased in the bundle. 
Choose your Size (one size for all 3 rings)
Choose your Metal - 14k Gold Fill or Sterling Silver
Comes packaged in a custom Salt City Gems gift box
* No exchanges on stacks! Please be sure to know your ring size before you order.