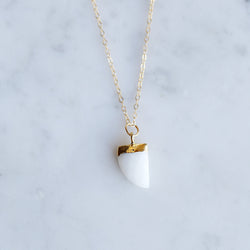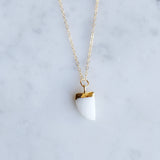 Eos Necklace - White Chalcedony
Our Eos Necklace is named after the greek goddess Eos, goddess of the dawn. A special reminder that light always comes after the darkness. A beautiful white chalcedony stone pendant hung from a dainty gold chain. 
Lovely for all occasions. 
White Chalcedony Pendant with Vermeil 
14k Gold Filled Cable Chain
Made in the USA 
Comes in a custom Salt City Gems gift box.