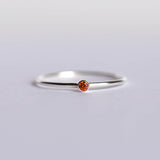 A beautiful and minimal take on the July birthstone ring. A dainty ruby colored CZ stone set in a 14k Gold Fill or Sterling Silver band. Stack it with our other birthstone rings to create a wonderful set. 
Ruby Cubic Zirconia Stone
14k Gold Fill / Sterling Silver Band
Made in the USA
Comes in a custom gift box, perfect for gift giving.